Hemp Solution's
Director, Derek Cross, along with TXHIA, went to meet with State Representatives in Austin, TX on
Feb.19, 2015
. State Representative, Joe Farias from District 118 supports Industrial Hemp for Texas! Big things are on the way for America and
Hemp Solutions
is here to make it happen.
Hemp Solutions,
is a Supplier of Raw Hemp Materials (hemp hurd/shiv, Fibre, Insulation) for HempCrete Homes, Animal Bedding, Construction Materials, Insulation, and Raw Hemp Fibre to mention a few.
Hemp Solutions
would like to call Texas their "
Hemp-Quarters"
to provide processing, jobs and to give Texas farmers another healthier crop choice aiding in better soil qualities, lessening water consumption a simple solution to erosion. Industrial hemp is known to be a drought resistant crop, and can actually survive a light frost.
Derek Cross and his partner in Colorado are Industrial Hemp Farmers and working on educating others who are interested in growing this vital crop. If you are interested in bulk raw hemp materials, send
Hemp Solutions
an email:
Info@hemp-solutions.org
, or
sales@hemp-solutions.org
. The website is: www.hemp-solutions.org.
HB 557 – places a University as lead for the research of industrial hemp pilot project as authorized by the 2014 Farm Bill.
...
State representative files bill to legalize hemp for research
SAN ANTONIO -- A state representative from San Antonio filed a bill to legalize hemp for research purposes.
Representative Joe Farias says the U.S. is currently the worlds' number one importer of hemp but is the only industrialized country that does not allow domestic hemp production. Hemp is used in food, clothing, oils and plastics.
Right now, hemp is considered a schedule one substance under federal law, which means it's a substance that has no accepted medical use.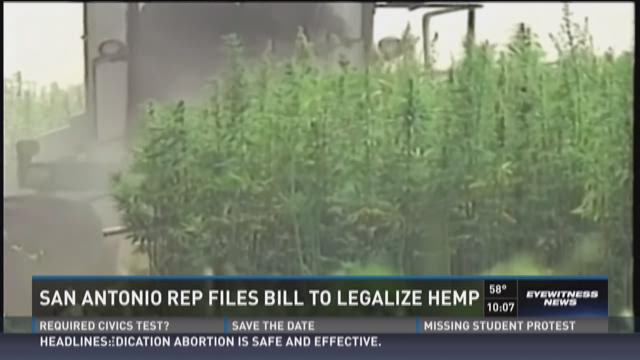 San Antonio rep files bill to legalize hemp
Farias says his bill permits state universities to research how to grow the hemp. He says unlike marijuana, hemp produces low amounts of THC, which is the ingredient in marijuana that gets you high.
"If you want to get a high off of one of these, you have to smoke a joint the size of a telephone poll within 15 minutes," said Farias.
Farias says roughly 20 states are already in the process of legalizing hemp. He says he's already received support from the farming community in Texas should his bill move forward.
______________